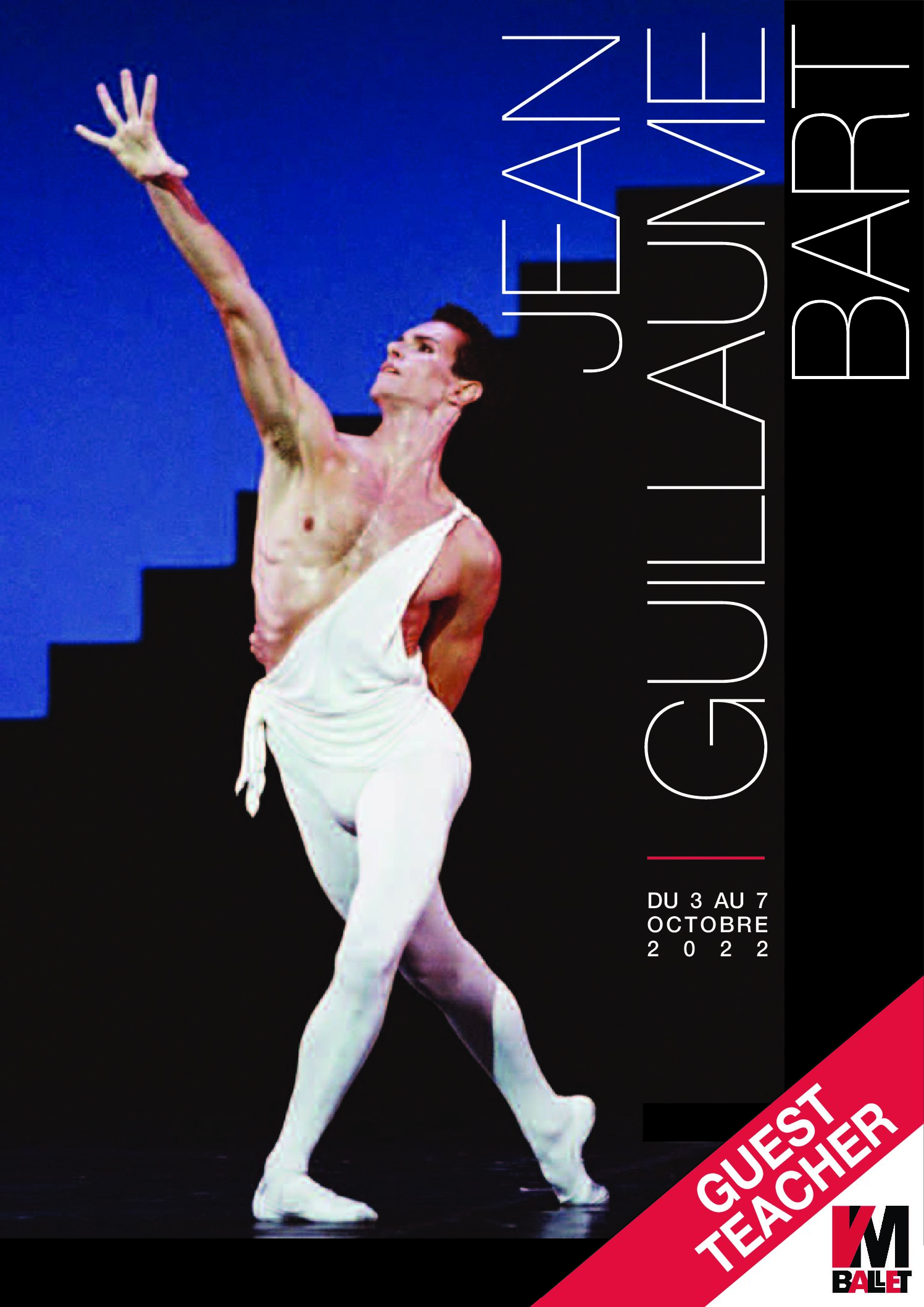 Jean-Guillaume Bart follows his dance education with the Paris Opera Dance School. In 1988, he joins the Paris Opera Ballet and is promoted to Coryphée in 1989, Sujet in 1991 and Premier Danseur in 1996.  He interprets  the leading  roles of the repertoire. His strong technique and refined style making him destined for the roles of « Danseur Noble ».
On 5 January 2000, he was appointed Danseur Étoile. He received the Prix Carpeaux in 1995, the Prix de l'A.R.O.P. a year later, and the Prix Benois de la Danse in 2000 for his interpretation of Balanchine's Apollon Musagète. In 2005, he was honored the title of " Chevalier des Arts et des Lettres".
In 2008, he ended his career as a dancer to dedicate himself as a teacher at the Paris Opera Ballet. He collaborates occasionally as a Ballet Master in the transmission of the repertoire. He is also a guest teacher at the Maggio Danza in Florence, at La Scala in Milan, at the Tokyo Ballet, at the Mikhailovsky Theatre in Saint Petersburg and at the Teatro Colón in Buenos Aires. Jean-Guillaume Bart has always felt the need to preserve and cultivate the classical and neo-classical vocabulary and to translate his own musical sensitivity. He also distinguished himself as a choreographer and created  at the Amphitheatre of the Opéra Bastille, Alla Fuga, in 1997. Claude Bessy commissioned him to create a ballet on Rossini's works for the Paris Opera School Péchés de Jeunesse (2000), for which he received the Charles Oulmont Prize. He has choreographed several works for Le Jeune Ballet de France, the English National Ballet School, the National Ballet School of Marseille, the Conservatoire National Supérieur de Musique et de Danse de Paris, and the "Jeunes Danseurs" evenings presented at the Palais Garnier. In 2004, Robert Carsen asked him to set Capriccio of Richard Strauss'. In April 2007, he signed his first major production in Russia, Le Corsaire, for the Federal Theatre of Ekaterinburg. In December 2010, he created the dances for the New Year's Concert in Vienna with the dancers and students of the Vienna Opera School and, in 2011, he revived La Source, a great romantic ballet that had fallen into oblivion, at the Palais Garnier. In July 2014, he created Lalo Celebration for the students of the Tanz Akademie in Zurich. He was three times French champion of the Historical Dance competition (2015, 2016, 2017).